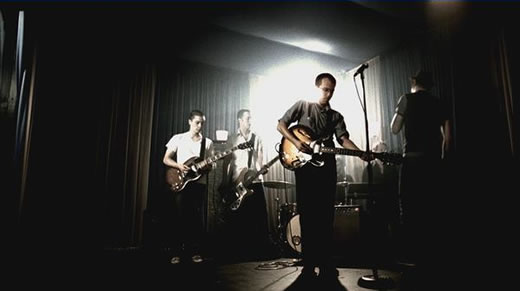 Magic Bullets
formed in San Francisco, California in 2004 with musicians primarily hailing from the Bay area who had spent most of their musically formative years playing with or along side one another in various punk rock outfits. Vocalist Philip Benson and guitarist and primary songwriter Corey Cunningham first met in 2000 and later played together in
The Cosmos
(a musical project of Cunningham's which released a split 7" on England's
Becalmed Records
with soon-to-be Words On Music artist
Lorna
in 2001).
After a few years Cunningham and Benson called upon friends Colin Dobrin (drums), Matthew Kallman (keys) and Nathan Sweatt (bass guitar) to form a new band to play music inspired by their favorite artists — drawing from the likes of
Orange Juice
,
The Sound
, and
The Feelies
, to name a few.
Magic Bullets
was born.
After developing an agreeable repertoire, and with the welcome addition of long time friend and musical collaborator and guitarist Ryan Lynch (also a former member of
The Cosmos
), Magic Bullets set out to play scores of shows in the winter of 2004/2005. Despite the youth of the band itself, the chemistry was instantly obvious; and the growing number of people present at these lively performances suggested audiences too liked the cut of their jib. Magic Bullets played dozens of shows including those with
The Walkmen
,
Elf Power
,
Voxtrot
, and
Cold War Kids
. In March 2007 the band performed with French Kicks at the Noise Pop Festival.
Audiences have particularly marveled at Benson's unique brand of storytelling — carefully threading the needle to stitch the frenzied wonderment of
David Byrne
with the impassioned croon of
Ian McCullough
. Benson's vocalizations include both self-reflective narrations ("My stare was there but my words were somewhere else / Self esteem can be such a tricky thing") and opaque worldly observations ("People refuse to make do when they lose / Something they thought they'd never find again / They refuse to remember way back when / That something it did not belong to them").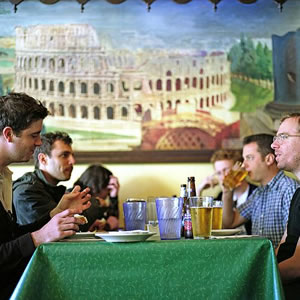 But Benson's towering presence does not disguise the disciplined craftsmanship of the talented quintet supporting him. Magic Bullets' music is imbued with an unaffected poignancy that enmeshes Lynch's clean, intricate guitar melodies with Sweatt's bolder, punchier, but no less melodic basslines. Kallman's Wurlitzer piano strategically provides not only a textural underbelly to the music, but also occasionally functions as the lead instrument ("Heatstroke"). Dobrin's multifaceted rhythms add unpredictability to the proceedings — having perfected the stop/start drumming style, knowing full well when silence is as powerful as a full-blown beat. Meanwhile, songsmith Cunningham's C86 chord progressions and blistering strumming patterns fuel favorable comparisons to early
The Wedding Present
.
The San Francisco Chronicle aptly summarized the music of Magic Bullets as drawing from "the emotional candor and jerky rhythms of the '80s post-punk era to carve a wistful but upbeat niche for itself in San Francisco's indie-pop scene."
Some of the earliest songs written by the band — later recorded for their debut record — include "Tender Throes," written in September 2004 and "Will Scarlet," written in November of that year.
In October 2005 the sextet had their first recording session of material to be included on their debut, with the stunner "Heatstroke" emerging from this
Jack Shirley
recorded session at Atomic Garden in East Palo Alto, California. In June 2006 Magic Bullets continued recorded six more songs at House of Faith in Oakland with
Bart Thurber
, with a few more songs recorded by
Lev Perrey
at The Emergency Room. Perrey mixed the album in Summer 2006.
a CHILD but in life yet a DOCTOR in love
, is the result of these recording sessions — a bold, exhilarating record of a band traveling 60 mph in a 40 mph zone, but sharp enough to be wearing their seatbelts. The record's 10 songs make friends with the rich traditions of post-punk (
Gang of Four
), new wave (early
Talking Heads
) and C86 (
The Wedding Present
).
a CHILD but in life yet a DOCTOR in love
was released by Words On Music in May 2007.
---
Philip Benson
- vocals
Corey Cunningham
- guitar
Colin Dobrin
- drums
Matthew Kallman
- keys
Ryan Lynch
- guitar
Nathan Sweatt
- bass guitar
Magic Bullets
[homepage]
[bandcamp]
Words On Music Releases
Full Discography
a CHILD but in life yet a DOCTOR in love (Words On Music, 2007) CD
Live [Part Time Punks (At The Echo)] (Spaceland Records, 2007) CD
The Upstairs Flight (Magic Bullets Music, 2008) digital single
Lives For Romance EP (Magic Bullets Music, 2009) 12"
Lying Around / Thoughts of You (Mon Amie, 2010) 7"
Magic Bullets (Mon Amie, 2010) CD + LP