LORNA • Writing Down Things To Say
[CD released November 17, 2008]
Writing Down Things To Say
is the third album by Nottingham, England's orchestral pop songsmiths Lorna. The quartet follow up their highly acclaimed 2005 record
Static Patterns and Souvenirs
with that rare album that eschews convenient classification — embracing an expansive sonic palette without sounding eclectic — in no small part due to the dozens of instruments the band is able to skillfully perform and weave into the record's nine compositions.
Throughout
Writing Down Things To Say
Lorna tours folk ("Look Left," "Warm Architecture"), old-time country ("A Place That We Can Go"), chamber pop ("Mostly Good Times"), post-rock ("East of the Stars"), avant-lounge ("(I Wish I Knew) How to Build a House"), and even twee ("Monsters Are Forever").
But the genius of Lorna lies in the masterful (husband and wife) songwriting team of Mark Rolfe and Sharon Cohen-Rolfe. The duo have created an album unified in theme and texture by seamlessly cross-pollinating their songs with traces of all these musical genres — deftly bringing pedal steels, harmonicas, string quartets, vintage keyboards, and woodwind and brass arrangements into the fold —not to mention their sumptuous vocal harmonies.
"Look Left" and "Warm Architecture," a pair of acoustic pieces, frame the record with deceptive simplicity as Rolfe gracefully, and without ego, captures city life with an optimistic lens — much like the band does with its minimalistic photography of an expansive seascape that graces
Writing Down Things to Say's
album art.
"Not In My Lighthouse" bustles with a warm bed of keyboards, on top of which Mark Rolfe's gentle vocals casually flirt with alternating clarinet and flute melodies. This patient courtship builds to yield a wistfulness and exquisiteness once realized by Scotland's romantic perfectionists The Blue Nile.
On "Think (Let Tomorrow Bee)" Sharon Cohen-Rolfe's voice is undressed to its poignant core - sheltered only by occasional strings and sparse acoustic guitar. The song is a stark interpretation of the 1993 Sebadoh composition — much in the way Ivo's This Mortal Coil project breathed a fresh new atmosphere into the music of Tim Buckley or Roy Harper.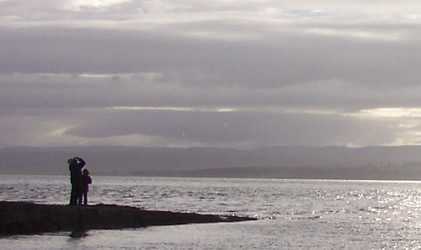 "(I Wish I Knew) How to Build a House" employs a 7/8 meter to daringly bridge the intersection of post-rock and electro-pop — perhaps having a conversation with American Analog Set and Stereolab along the way.
"East of the Stars," penned by Lorna's flutist Matt Harrison, lovingly recalls Words On Music labelmates Coastal — with Cohen-Rolfe's hushed vocals presiding over brushed drums, minimalist guitars, and soothing keys and strings.
Writing Down Things To Say
is a record that rewards multiple listens, as the sundry instruments that are subtly and cleverly woven into the rich fabric of Lorna's songwriting surface and bloom.
---
Reviews
A carefully crafted, peaceful but mysterious soundscape. We're instantly pulled into an atmosphere that's placid but not uniform. Lorna's gentle dream-pop songs have not just mood, but also personality.
--
PopMatters, The Best Indie Pop of 2008 (#9)
Lorna's third album takes folk, chamber pop, post-rock, keyboards, woodwinds, brass and synthesizers and creates an entirely new solid and charming melodic strategy. The tunes are subtle yet poignant, discussing love and relationships with the musical eloquence from a relaxing Sunday morning.
--
Blurt
Lorna plays slow and low, but always with a vivid sense of place, projecting a distinct feeling that flows out the speakers and overtakes you. It's sad music sometimes, pretty music always, and clever music too. A haunting album.
--
Erasing Clouds
Fans of fragile country-folk and lovely chamber pop will simply adore
Writing Down Things To Say
from start to finish.
--
The Power of Pop
---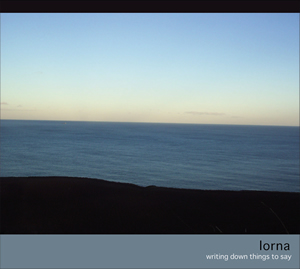 Additional Releases