MOTION PICTURE • A Paper Gift
[CD released November 2000]
A Paper Gift is Motion Picture's critically lauded third album for Words On Music. On this record, Motion Picture crafts eleven intricate pop songs out of textured guitar and string arrangements with wistful elegance.

Songwriter and multi-instrumentalist Eric Ostermeier embraces lyrical themes from a distant, romantic era and continues to invite linkages between film, sound, and narrative. Ostermeier's lilting voice is juxtaposed by elaborate orchestrations of cello, violin, French horn, and cor anglais.

A Paper Gift refers to the lost art of letter writing in a long-distance love affair. The title track is a haunting piece recalling early Red House Painters with string-driven passages serving as bookends. "Alida" recounts Alida Valli's moving performance in the 1949 film noir classic The Third Man, set to a musical score reminiscent of the era.

"The First Name On Your Dance Card" eavesdrops on a boy's plea at a ballroom dance, set to the bouncy mannerisms of Belle & Sebastian. Renowned cor anglaisist Merilee Klemp (Prince, Elton John) adds a punch to "Twisting The Apple Stem" — a song exploring the innocent folly of determining your unknown love's true name at the break the fruit's stem.

"Song For Your Leave-Taking" is an upbeat piece that pays tribute to Peanuts character Sally Brown — written at the time of the passing of cartoonist Charles Schultz. The song's bridge exemplifies the influence of Felt on Ostermeier's guitar melodies. "Beside The Meadowgrass" is a short classical piece in the spirit of Durutti Column that serves as an introduction to "Winter, 1988."

"Promising Young Actress," which brings A Paper Gift to a close, is musically an upbeat affair — harkening back to the great buoyant pop songs by The Feelies and Yo La Tengo. But the lyrics tell of the travails of a young actress who so takes to heart her role of the tragic Desdemona in Shakespeare's Othello, that she dies with her character during her last stage performance.

Throughout A Paper Gift cellos play an even more prominent role than on Motion Picture's first two albums — more often than not serving as a critical lead instrument (e.g. "A Paper Gift," "Alida," "Me In Your Past Tense," "Winter, 1988"), rather than implemented simply for background textures.


---
Reviews
A Paper Gift
is a timeless set of wholly innocent pop songs. Falling somewhere between Belle & Sebastian and Yo La Tengo, Motion Picture is meticulous and fey, finding their own niche in the process. Overall, a beautifully autumnal album.
--
All Music Guide
If ever an album was entitled to proclaim its mastery of gentle simplicity, that album is
A Paper Gift.
Elegant and heartbreaking, the music recalls the softest moments of Yo La Tengo combined with the textured string sounds of composer Debussy. It is pop music at its most vulnerable and sweet, and it is entirely engaging.
--
Amy Leach,
Splendid
This is the 3rd Motion Picture CD and it's their best yet! Sweeping, dramatic songs recall glum geniuses like Morrissey and Bobby Wratten (esp. The Field Mice) . . . If you have not had the pleasure of listening to a Motion Picture CD then by all means do not deprive yourself anymore.
--
Tim Hinely,
Dagger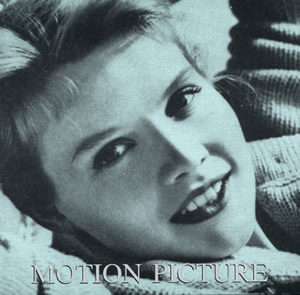 Additional Releases