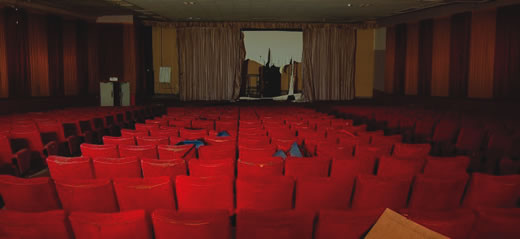 Motion Picture
writes music that invites linkages between film, sound, and narrative. The songs emphasize conversational lyrics that evoke picturesque images and themes from the distant romantic era of black and white celluloid. The heart-wrenching music merges guitar and cello melodies into arrangements that are at once idyllic in essence and elaborate in structure. Plaintive and contemplative, Motion Picture calls to mind the lush fragility of
Belle & Sebastian
, the lovelorn lyricism of
Trembling Blue Stars
, and the sophisticated melodic stamp of early
Felt
. The group formed at Monmouth College, Illinois in 1992, and now writes and records in Minneapolis, Minnesota.
Motion Picture gratefully acknowledges the good will of three remarkable
actresses
who graciously consented to the band's requests to incorporate photos from their private collections on its album covers. English silver screen legend Miss Deborah Kerr is the daydreaming girl on 1998's
Every Last Romance
. The ballerina on 1999's
For a Distant Movie Star
is Miss Claire Bloom, English star of stage and screen. The buoyant young woman on 2000's
A Paper Gift
, is American screen actress Miss Carroll Baker.
Motion Picture is nearly finished recording fourteen new songs for their as-yet untitled fourth album. The recording, an ambitious project that began in May 2004, is slated for a 2022 release.
Eric Ostermeier - voice, electric and acoustic guitars, bass, drum kit, orchestration
John Rigg - electric guitar, second voice



Words On Music Releases
Full Discography
Every Last Romance (Words On Music, 1998) CD
For a Distant Movie Star (Words On Music, 1999) CD
A Paper Gift (Words On Music, 2000) CD