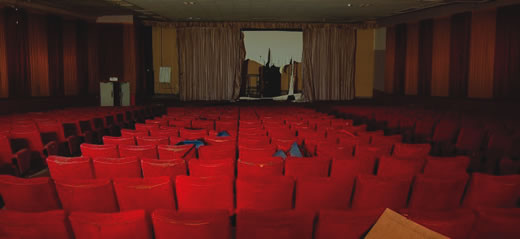 Deborah Kerr
Deborah Kerr is perhaps the most beloved and charming screen actress to come to Hollywood from the United Kingdom during the golden age of cinema. This photograph of Miss Deborah Jane Kerr was her first professional theatrical portrait taken when she was sixteen years old in 1937, by R. W. Brown in Guildford, Surrey, England.

By the 1940s, Ms. Kerr's stature as an actress grew quickly and she soon became a top-billed leading lady in motion pictures made in England. By the 1950s, she was one of Hollywood's elite A-list stars. Ms. Kerr's natural grace and articulate voice made her peerless in portraying demure, refined, upper-class characters in dramatic roles. But she also turned in memorable performances in comedic roles (
The Grass is Greener
(1960) and
Perfect Strangers
(1945)) and in several films involving complex sexual scenarios with the male leads (
King Solomon's Mines
(1950),
Tea and Sympathy
(1956),
Heaven Knows, Mr. Allison
(1957), and
Separate Tables
(1958)).
Ms. Kerr received an astounding six Academy Award nominations for best actress in an eleven year period:
Edward, My Son
(1949).
From Here to Eternity
(1953),
The King and I
(1956),
Heaven Knows, Mr. Allison
(1957),
Separate Tables
(1958), and
The Sundowners
(1960). She was awarded a Golden Globe for
The King and I
in 1957 and in 1959 for the World Film Favorite Female. In 1994 she received an Academy Award for Lifetime Achievement.
Motion Picture thanks Ms. Kerr for giving consent to use her image on our record cover.
---
Claire Bloom
In the more than fifty years since her unforgettable film debut opposite Charlie Chaplin in
Limelight
(1952), Claire Bloom's performances have continued to stir audiences throughout her career. While best known for her impressive film work, Miss Bloom has also landed much-coveted stage roles (Blanche DuBois in
A Streetcar Named Desire
and Nora Helmer in
A Doll's House
). Miss Bloom is also the author of two literary self-portraits,
Limelight and After: The Education of an Actress
and
Leaving a Doll's House
.

Despite turning in striking performances in an endless string of critical motion picture successes during the first two decades of her film career, Miss Bloom's work has astonishly not yet been recognized by the Academy of Motion Picture Arts and Sciences. In addition to stealing the show from Chaplin as the compassionate, suicidal ballerina in
Limelight
, Miss Bloom's role as a caseworker for Cliff Robertson's mentally challenged character was instrumental in his winning the Best Actor Oscar for
Charly
(1968). Other significant acting achievements during this period include roles in
Richard III
(1956),
Look Back in Anger
(1958),
The Brothers Karamazov
(1958),
The Haunting
(1963),
The Outrage
(1964),
The Spy Who Came in from the Cold
(1965), and
A Doll's House
(1973).
In recent years, Miss Bloom has appeared in several independent productions such as
Shadowlands
(1985), Stephen Frear's
Sammy and Rosie Get Laid
(1987), as well as two Woody Allen films,
Crimes and Misdemeanors
(1989) and
Mighty Aphrodite
(1995).
Motion Picture gratefully acknowledges Miss Bloom for her consent to reproduce her image on the album cover. The photograph, courtesy of Miss Bloom's personal collection, was taken when she was six years old--she would return to play a ballerina some sixteen years later in her career-making performance in
Limelight
.
---
Carroll Baker
Few actresses made a bigger splash in their first year of feature films than did Carroll Baker in 1956 when she appeared in George Steven's epic
Giant
and Elia Kazan's much-ballyhooed drama
Baby Doll
. Miss Baker skillfully crafts the role of "Baby Doll," a character penned by Tennessee Williams, into a provocative, sultry child bride several years her junior. At the time of production, Miss Baker was nearly twenty-five years old, portraying a character of nineteen years, who at times behaved like a five-year-old baby and a thirty-five year-old temptress. This highly controversial film is now considered one of the best motion pictures of the 1950s and Miss Baker's performance earned her an Academy Award nomination for best actress.

Miss Baker followed up this astonishing year with starring roles opposite Gregory Peck in the robust western The Big Country (1958), Clark Gable in the romantic comedy But Not For Me (1959), and Ralph Meeker with her harrowing turn as a rape victim in Something Wild (1961). During the next decade Miss Baker appeared in several successful period films, including the seminal western How the West Was Won (1962), Cheyenne Autumn (1964), and a cameo in The Greatest Story Ever Told (1965). The studios, however, were always eager to cast this porcelain beauty in roles which capitalized on her sex-symbol status, as Paramount Pictures did in films such as The Carpetbaggers (1964), Sylvia (1965), and Harlow (1965).
Miss Baker continues to work today, and in recent years she has appeared in supporting roles in a number of television and major studio productions including Ironweed (1987), Kindergarten Cop (1990) and The Game (1997).
This cover photograph was taken of Miss Baker in New York City in 1953, the year in which she studied at Lee Strasberg's Actor's Studio (with a class of twenty that included a soon-to-be famous director Mike Nichols and actress Inger Stevens).
Eric Ostermeier - voice, electric and acoustic guitars, bass, drum kit, orchestration
John Rigg - electric guitar, second voice



Words On Music Releases
Full Discography
Every Last Romance (Words On Music, 1998) CD
For a Distant Movie Star (Words On Music, 1999) CD
A Paper Gift (Words On Music, 2000) CD