FOR AGAINST • In the Marshes
[CD released September 2007]
In The Marshes
is Words On Music's third in a series of album reissues by Lincoln, Nebraska's post-punk pioneers For Against. The record represents the darkest and most experimental period in For Against's nearly 25-year history. Primarily recorded on 4-track in 1986 during a break from the recording sessions of their debut album
Echelons
, six songs were eventually culled together to comprise the EP later released by Independent Project Records in 1990 for their 10" Archive series.
The material on
In The Marshes
is awash with faraway vocals, heavy coats of reverb, and echoed electronic drums triggered manually by drummer Greg Hill. But
In The Marshes
is far from an electronica album; ever-present is singer Jeff Runnings' angular, growling bass to which Harry Dingman's Factory meets 4AD Records guitar noise is anchored.
"Tibet" begins the record with a pulsating echo unit noise that ties Runnings' non-syllabic hymnal to Dingman's delay-laden Durutti Column-esque guitars. The song is a gentle prelude to the anthemic "Amnesia," which harnesses increasing levels of electricity from its feverish bass and guitar harmonics as Runnings chants, "Try to remember / Try to remember..."
"The Purgatory Salesman" is perhaps the darkest song on the record - with Dingman's guitar feedback howling intermittently from low bends to high shrieks. The song, especially with its pounding drums and incorporation of sparse noises, would fit in quite nicely with New Order's classic
Movement
LP.
Fan favorite "Amen Yves" centers on Runnings' infectious synth-work and Dingman's brilliant display of how well placed guitar harmonics can carry a melody all by itself. "Amen Yves" today remains a darkwave club staple in Europe, with Runnings' icy vocals mesmerizing audiences, despite his reciting only four lines during the entire song. The song was recorded with a drum machine borrowed from local musician and friend Matthew Sweet.
"Fate" is more akin to
Power, Corruption, and Lies
era New Order, with its bouncy rhythms, melodic bass lines, and Runnings' hearfelt vocals that contain some of the singer's most revealing lyrics ("One out of ten will be just like me / One out of ten it is very likely / This is fatal").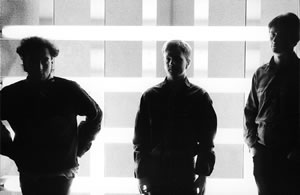 " "In The Marshes" closes the original EP with Dingman and Hill sharing vocal duties - the only song in For Against's catalog not featuring Runnings as the lead singer. The first half of the song is a black and white etching, with its minor keys and opaque lyrics - only to transition at the three-minute mark into a stark watercolor on canvas. For more than a minute, For Against segues into the essence of dream pop, a flirtation from across the ocean with contemporary Cocteau Twins, who were beginning to explore similar themes on Victorialand.
Two exclusive bonus tracks are added to this CD reissue of
In The Marshes
- both reworkings of songs off the EP with Hill performing on live drums. On "Amnesia (studio version)," Hill pounds out a torrid tribal beat for the ages, as Dingman matches him with muted yet propulsive guitar riffs. This studio version was recorded live to two-track with no overdubs and embodies the post-punk ferocity that defines the For Against live experience. At this accelerated new tempo, Runnings sings his lyrics with an even greater urgency ("I thought I said what I meant / And I wrote it down myself / But now I can't remember / Remember where that paper went").
Also included is an early, 1984 recording of "Amen Yves" recorded by Randy Watson (
December
). Runnings' voice is more ethereal and Dingman's peels of backwards guitar are more pronounced compared to the 1986 version. Dingman's guitar melodies are encrusted in the warmest of reverb baths and the song ends with a haunting cacophony of flute melodies.
In The Marshes
is reissued in a six-panel digipak design by two-time Grammy nominee Bruce Licher (Stereolab, Camper Van Beethoven).
---
Reviews
Great reissue! Collectively, it's a like being cornered by Dracula, a subconscious, blackened, criminal seduction. But like the early Comsats, it's so darkly fascinating, you yield your neck to the vampire.
--
Jack Rabid, The Big Takeover
It's a doomy yet fascinating record which epitomises 4AD Records circa 1986.
--
Leonard's Lair
I still find it hard to believe that in 1986 in Nebraska a band was making music that seasoned music fans, then or now, would have trouble distinguishing from the best of the Factory or 4AD rosters.
--
Erasing Clouds
In The Marshes
was always a glimpse into the band's creative process, like a secret history, and having it again - and added to - feels like a gift.
--
Delusions of Adequacy
They practically predict modern indie rock from Interpol through The Knife and every other guitar/synth driven band that's hung a gloomy pall on their melodicism, or opted to eschew pop hooks completely for the droning bliss of shoegaze...this short-lived aside is definitely killer punctuation in a woefully overlooked career.
--
Aaron Shaul, Ink 19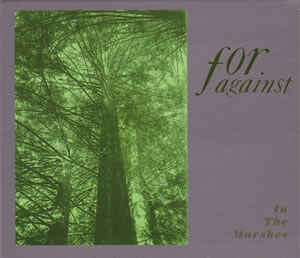 Additional Releases