FOR AGAINST • Never Been
[CD released November 10, 2009]
One year after the release of their critically lauded
Shade Side Sunny Side
album, Lincoln, Nebraska post-punk stalwarts For Against return with their 9th record,
Never Been
.
Never Been marks the second record reuniting singer/bassist Jeffrey Runnings with original guitarist Harry Dingman III, who was a core member of the band's first three albums, all of which were recently reissued by Words On Music (1987's
Echelons
, 1988's
December
, and 1990's
In the Marshes
).
Never Been showcases the depth and breadth of For Against's sonic palate — alternating angular, foot-stomping post-punk ("Antidote") with lush, piano-driven ballads ("Of a Time"), and dark Joy Division-esque dirges ("You Fade"), all woven together by elegant instrumentals ("Black Willows," "Per Se").
"Sameness" opens the record with anthemic passages on a regretful masquerade, propelled by new drummer Nick Buller's militaristic snarework and Runnings' trademark punchy basslines. Dingman's stabbing guitar chords steal the chorus, and his tremolo-driven, eastern-influenced solo on the bridge channels Will Sergeant's work on the beloved Echo and the Bunnymen records.
"Different Departures" marks one of Runnings' most relaxed yet infectious vocal melodies out of the 80+ songs he has recorded to date, a calmness which belies the weighty lyrics concerning departed family members: "The foundation of our home / Has sunk in soggy ground / Grounded in tears." The song cascades into a coda of ascending chord changes whereupon, reaching the summit, Dingman's effected e-bow carries the melody over a bed of acoustic and electric guitars.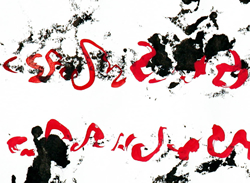 "Black Willows" and "Per Se" are instrumentals harkening back to early Felt, with Dingman's nimbly interweaving guitar lines on the former and Runnings' sparse piano melodies recalling keyboardist Martin Duffy on the latter.
"Antidote" is an unrelenting blast of one hook after another, highlighting For Against's appetite for juxtaposing hummable melodies against a barrage of raw, wintry ambience. With clever production flourishes from Marc Ostermeier (
Shade Side Sunny Side
, Should) "Antidote" is quintessential For Against.
"Of A Time" finds Runnings behind the piano and offering the most elaborate vocal arrangement of his 25-year career. Buller's tom-tom drumming (suggesting early Comsat Angels) is sparsely implemented in order to showcase Dingman's gorgeous, reverb-soaked melodies that remind us why For Against was one of the pioneers of the dream pop sound in the mid-1980s (e.g.
December
). "I'm the only one who knows," repeats Runnings again and again as the music is stripped away to all but his naked voice.
Never Been
closes with "You Fade," a
Closer
-inspired composition in which Runnings flatly warns, "Nothing will be quite right again." Drenched with atmosphere, analog keys, and droning guitars, "You Fade" highlights the continued linkages between For Against and the post-punk / Factory Records aesthetic which has impacted their sound ever since their earliest recordings 25 years ago.
---
Reviews
Playing this record is to be sucked into another world, succumbing to its textural tenacity, so brimming with pocket passages of flickering luminous radiance and the coolest shade, dabbling in dissonance, light jangle, esoteric bass, hypnotic drums, and some of the most inventive guitar playing you'll hear any year. It's an absolute, about-face triumph. –
Jack Rabid, The Big Takeover
Song for song, For Against hit a perfect string of performances. For Against having gone from being seen as earnest U.K. post-punk copyists to having their own distinct place in the overall history of that music, the sense is one of perfect assurance in their abilities. –
Ned Raggett, All Music Guide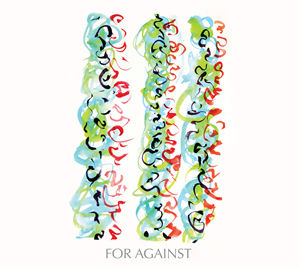 Additional Releases