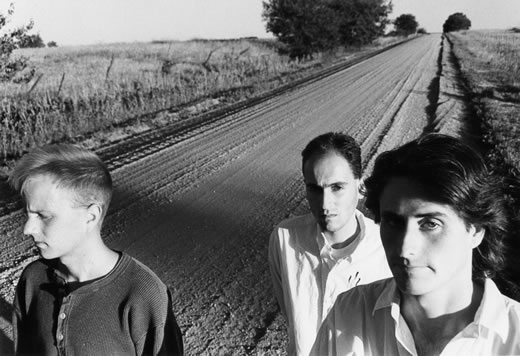 For Against
is one of America's most enduring and endeared independent musical ensembles, founded in Lincoln, Nebraska in 1984. The origins of For Against date back to a series of line-up changes in local Lincoln bands in the early 1980s. In 1983 guitarist Harry Dingman (formerly of
Cartoon Pupils
), and drummer Greg Hill formed a quartet called
Glue
with Liz Panarelli (bass) and John Fynbu (vocals, formerly of
Hymn to Joy
). Jeffrey Runnings (also from Hymn to Joy), joined the quartet on keyboards, and the group subsequently changed their name to
D.B.L.
Runnings had previously moved back to Lincoln from Athens, Georgia, where he had toured playing keyboards with ex-Lincoln resident
Matthew Sweet
. D.B.L. eventually became known as
Four Against One
.
After a year, Panarelli left the quintet and her departure shifted Runnings from keyboards to bass. Runnings also started to sing on a few songs, and after performing one show as the downsized quartet, Hill convinced the band to change the band name once again - this time to
For Against
. By the autumn of 1984, Fynbu left the band and Runnings took over as the trio's full-time singer. This line-up would remain unchanged for the next four years.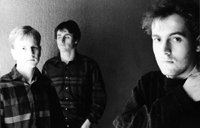 In 1985 For Against released their debut 7" — the remarkable Autocrat / It's a Lie single on their own
Republic Issue
record label. "Autocrat" weaves Dingman's
Gang of Four
-inspired choppy, but ingeniously precise feedback and guitar stabs through Hill and Runnings' punchy, but solid rhythm section. Runnings wryly captures the song's essence with a repetitive one-line vocal melody: "Yeah, that's right, that's the way it is."
On the strength of this single, the group soon launched a long-time association with the legendary
Independent Project Records (IPR)
(
Scenic
,
Savage Republic
,
Deception Bay
,
Fourwaycross
). In 1986 For Against recorded seven more songs that, along with the two 7" songs, appeared on the group's acclaimed debut LP
Echelons
.
Echelons
is beloved for it's unique brand of
Joy Division
-influenced pop, and the elite music critics were duly impressed:
"
All through Echelons the echoed sound of guitarist Harry Dingman arouses a berserk fireworks show careening like a thousand power drills. Pin it to the non-stop rhythm section and Runnings' boyishly sweet catchy pop voice, and For Against are a waterfall of sound. When the tempo slows down, they draw you in like a hypnotist.
" -
Trouser Press
"
The debut album by Lincoln Nebraska's For Against is a stimulating affair. Close listens reveal passages of gleaming brilliance and instrumental clarity that may traverse a galaxy or dimension but still sets the controls directly for the heart of the soul. For Against takes aim at the oft-missed widescreen, panoramic spectrum of sound. They hit it too, thanks to their intuitive sense of warm, accessible melodies.
" -
Fred Mills, Option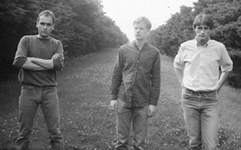 Several songs on
Echelons
("Echelons," "Forget Who You Are," "Broke My Back") perfectly capture the dark colorings of early
Factory Records
. The title track is replete with jagged, rusty guitar chords, painting gray and black trails onto which Runnings travels while reiterating the cautiously optimistic refrain, "Someone somewhere waits for me." The finale "Broke My Back" is a 7-minute anthem with shadowy chords and Runnings' boldly minimalist bassline — creating an atmosphere so bleak and compelling you can almost picture
Martin Hannett
behind the mixing console.
Other material ("Shine," "Get On With It") asserts the janglier elements of early 80s Athens rock, led by Dingmans'
Peter-Buck
-with-a-reverb-box melodies and Hill's lightning-quick drum patterns. All nine songs are distinctly identified by Runnings' clear, gliding timbre — a striking counterpoint to the dimly lit music supporting him. All these elements conjoin in
Echelons
to set the definitive image of the depth, vastness, and loneliness of America's sparse heartland.

Echelons
was celebrated with a Grammy nomination for its remarkable cover design by
Bruce Licher
(a shaft of wheat accompanied each record sleeve in its initial 1,000 copy letter press run). For Against also played a 20-date tour supporting the album, performing shows in Iowa, Missouri, Kansas, Wisconsin, Illinois, Ohio, Michigan, Pennsylvania, New York, New Jersey, Washington, D.C., Maryland, Virginia, and Tennessee.
In 1988, the trio recorded nine new songs at Black Sea Studies in Lincoln for their equally distinguished sophomore album
December
, released on
IPR
later that year. A ferocious rhythm section launches
December
with "Sabres" where Hill finds room for fills and embellishments in spaces upon which most drummers would not even dare to encroach. Runnings continues to intrigue by conveying his dark (and at times obscure) lyrics in a deceptively boyish delivery. Punctuated bass lines propel "Stranded in Greenland," while guitarist Harry Dingman's melodies weave ever more pronounced circles around the rhythms within.
"Svengali" recalls the best of
Chronic Town
-era
R.E.M.
with Hill's quick tom-tom fills and Dingman's nimble, repetitive picking intervals in the spotlight. On "They Said," Runnings' vocals and Dingman's melodies gracefully dip in and out of the chorus, while a coda replete with orchestral-sounding 12-string sweeps escort the song to its melancholic end.
Brooding elements from For Against's debut album
Echelons
remain, most evident in the prominent basslines of the 6/8-metered "The Effect." Echoed guitar work and repetitive
Joy Division
-esque basslines create a dark structure onto which Runnings' chilling vocals are on prominent display. On the album's measured title track, Dingman's crushing two-note guitar melody lingers during the song's sparse passages.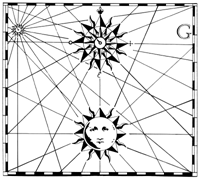 Improbable harmonics add sparkling touches to "The Last Laugh" and "Paperwhites." The album closes with "Clandestine High Holy" on which Dingman's guitar teeters on the edge of feedback while Runnings pounds out fierce basslines that would make
Gang of Four
blush. Ending the album in spectacular fashion, Dingman propels the band through a minute-plus coda with cascading chord progressions that simply bring chills to the spine.
December
was a college radio success, but before a tour could be realized, Hill suddenly left the band in late 1988. Runnings then recruited two new members: bassist Jeff Gaskins and drummer Steve Schultz. With the addition of the new bassist, Runnings moved over to join Dingman as a second guitarist. For Against played one show as this new quartet before Dingman himself also departed.
Dingman subsequently joined forces with Hill to form
The Millions
, who released two albums in the 1990s (1991's
M Is For Millions
on Smash Records, 1994's
Raquel
on Germany's Dream Circle Records). As the only original member of For Against remaining, Runnings worked with Gaskins and Schultz under the band name
Stahlversion
, performing some local shows under that moniker before returning to the name For Against. The band then added a second guitarist, Steven Hinrichs (another alumni of Lincoln's
Hymn to Joy
), whose Lincoln band
Playground
had performed with For Against at several local shows in recent years. In 1990 Schultz was subsequently asked to leave For Against, to be replaced by Paul Engelhard, formerly of the Lincoln band
Holiday
. Both Englehard and Hinrichs brought considerable experience to the group, having played in a number of noteworthy Lincoln bands over the years. A complete history of their pre-For Against output and post-For Against endeavors by Dingman and Hill are documented
below
.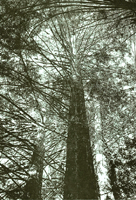 In the midst of For Against's lineup shifts during this span,
IPR
released a 10" record of the band entitled
In the Marshes
in 1990.
In the Marshes
collects six songs recorded by For Against on a four-track in 1986 after the completion of the
Echelons
sessions. The songs were originally meant to be demos while the band took a break from
Echelons
. The new material was decidedly darker and more experimental than the trio's debut LP, and was infused with considerable rhythmic and instrumental electronics. Highlights from the 10" include Runnings' mesmerizing vocals on "Amen Yves," and the ascent from sparsely escorted vocals to the belated bass entrance on "Amnesia." The atmospheric title track features the buried vocals of Harry Dingman (along with Greg Watson and Randy Watson), which are suggestive of
Peter Hook's
voice on
New Order's
debut album
Movement
. This was the first and only For Against song on which Dingman sung (although he did co-write the lyrics to "Daylight" off
Echelons
).
Meanwhile, in 1990 and 1991 Runnings (on guitar), Gaskins (bass), Hinrichs (guitar), and Engelhard (drums) recorded several new songs with
Randy Watson
recording the band at Lincoln Carpet Center. Gaskins was asked to leave the group after the recordings, which meant Runnings returned to bass for subsequent live performances.
The first release from these sessions was the You Only Live Twice / Today Today 7" on the
Part Trance
label in 1991. The A-side is a moderately up-tempo number with unique vocal melodies and chord changes suggesting the Scottish popsters
Close Lobsters
. The new dual-guitar approach of the recording sessions is most apparent in the song's bridge that features wonderfully lush dream pop melodies akin to
Pale Saints
.
In 1993
IPR
released three more songs from the 1990-1991 sessions on the Don't Do Me Any Favors 7". The title track is a pop gem, with Engelhard's punchy cymbal crashes answering Runnings' vocals lines in the chorus.
Robin Guthrie
-esque guitars are on full display, as they are in the B-side "Breathless" — which contains a spectacular coda featuring multiple soaring, echoed guitars.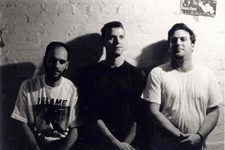 1993 also saw the release of For Against's fourth full-length album, the acclaimed
Aperture
, released by
IPR
and distributed by Dutch East India Trading. All five songs from the 7" singles were collected along with six other songs from the 1990-1991 sessions. The album departs stylistically from the
Echelons / December
era in a number of areas. First, the addition of Engelhard and Hinrichs helped to shift the reference point of the music away from
Factory Records
and closer to dream pop, recalling bands like
Lush
,
Pale Saints
, and
Kitchens of Distinction
. Secondly, the band's songwriting was more immediate, with eight of the eleven songs starting cold with Runnings' vocal lines joining the music in the first measure — an approach used to great success on the early
Beatles
albums. Thirdly, the production of the material is thinner and more treble heavy, perhaps a result of the absence of Runnings' punchy basslines that helped to shape the rhythm section on past (and future) For Against releases.
In November 1993 and September 1994 For Against left their native Nebraska to perform as a trio at the annual CMJ New Music Marathon festival in New York City — the first show promoting
Aperture
and the second showcasing material for their upcoming fourth album. The band also played at New York City's famous CBGB's in April of 1994.
In 1995, For Against released the 11-song
Mason's California Lunchroom
on New York City's
Rainbow Quartz
label. Runnings' return to bass is a great success, marked by his trademark driving, post-punk melodies (e.g. "Crossed," "Blow"). The overall sound of
Mason's
is bigger than its predecessor — fuller, rounder, and less trebled. Also Hinrich's guitar work on
Mason's
leans more towards Athens, Georgia than UK dream-pop, electing to alternate chord-play with repetitive picking melodies rather than presenting an all-out assault of lush chords.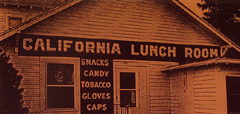 The brilliant "Tagalong" should have been a college radio staple in 1995, and includes perhaps the best hooks of any For Against song, with each member of the trio performing subtle riffs off the other. "Vista" might be the fastest song in For Against's catalog, and is certainly one of the most exhilarating. Along with the preceding track "Coursing," "Vista" puts both Engelhard's quick and nimble drum fills and Runnings' melodic bass lines on full display — guiding listeners back into the territory of For Against's post-punk origins.
"Mirage" is another standout track, propelled by Runnings' outstanding vocal melody and Engelhard's bouncy drumming, which eventually segues into a driving double-time coda. The finale, "Blow," is a fascinating closer — perhaps the gentlest and most delicate composition in the For Against catalog to date. Hinrichs' effected chord progressions and Runnings' languid vocals make the song a definitive reminder For Against still stood tall among the dream pop giants across the Atlantic.

In October 1995 For Against took part in the "Beautiful Noise" festival All Fish Go To Heaven in Mesa, Arizona. The band led a lineup that also included Bruce Licher's band
Scenic
,
Apples In Stereo
, and other
IPR
artists such as
Alison's Halo
and
Half String
.
The trio continued to write new material and by 1997 they released the brilliant ten-song
Shelf Life
, licensed by
IPR
to
Dave Allen's
(
Gang of Four
,
Shriekback
)
World Domination Recordings
label. The production of the band's fifth album brings out the very best of both sides For Against — their depth and delicacy. The trio's music had never sounded so fresh and polished: Runnings' melodic bass is both deep and crisp (e.g. "Harbor," "Lost"), Hinrichs' guitar lines are lean but affecting and graceful, while Engelhard's drumming is textured and authoritative, but never overreaching.
Shelf Life starts quickly out of the gate with "Shadow" — a lively pop song with an unforgettable chorus. "Wintersong"" follows closely on its heels, matching "Shadow" step-for-step in sheer pop brilliance, with Hinrich's willowy guitar melodies complementing Runnings' emotive vocals.
"Shelf Life" also includes two rare excursions by For Against into covering other artists' material: For Against energizes and gives the pop treatment to
East River Pipe's
"Times Square Go Go Boy" and digs deep into
Tracey Thorn's
(
Everything But the Girl
)
Cherry Records
years for the atmospheric album closer "Seascape."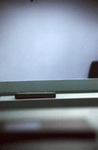 After a five-year absence, For Against triumphantly returned to the independent music scene with the release of their seventh album
Coalesced
on
Words On Music
in 2002, produced by
Mike Mogis
(
Azure Ray
,
Bright Eyes
,
Cursive
). Heralded as their best work to date by independent music luminary publications such as
The Big Takeover
,
Pop Culture Press
, and
Skyscraper
,
Coalesced
delivers Runnings' trademark soaring vocals enmeshed in a delicate latticework of guitars and punctuated rhythms, to craft an arresting blend of lucid, gorgeous atmospheres.
"Medication" and "So Long" begin the seven-song album with Engelhard's spry, energetic drumming anchoring Runnings' airy vocal melodies to Hinrichs' sparkling guitars. "Fuel" follows, which, along with "Shelflife," are matchless ballads — perhaps the finest and most heartrending Runnings has ever composed.
The anthemic "Coalesced" is the album's centerpiece — opening with an etching of the contemplative disposition of
Echelons'
title track, with Hinrichs' churning, reverbed guitar and Runnings' eighth note basslines recalling the early
Factory Records
sound. "Coalesced" ultimately bursts into a rousing chorus and then races through a jaw-dropping three-minute coda of vigorous guitar work and spectacular Engelhard fills.
The finale, "Love You," resurrects
Maurice Deebank
-era
Felt
into an excursion of the scenic side of post-rock, weaving multiple layers of beautiful guitar melodies with a precise, balanced cadence and rhythm. In sum,
Coalesced
is a seamless, coherent masterpiece of riveting pop craftsmanship, unspoiled by studio contrivances or artistic pretensions.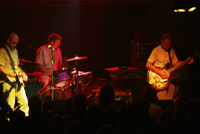 After recording
Coalesced
, Hinrichs moved from Nebraska to Virginia, leaving the band after thirteen years. For two years For Against's status was uncertain, but in August 2004 the band reformed with original guitarist
Harry Dingman
who had recently moved back to Nebraska from Colorado. For Against are now playing live shows once again, including annual Lincoln festivals like 2004 and 2005's Lincoln Calling and 2005's Scenefest. The band also made its European debut in March 2007, performing two shows in Athens, Greece.
In September 2007
Words On Music
reissued
In The Marshes
for the first time on CD. Two exclusive bonus tracks are added to the release - both alternative versions of songs off the EP with Hill performing on live drums. On "Amnesia (studio version)," Hill pounds out a torrid tribal beat for the ages, as Dingman matches him with muted yet propulsive guitar riffs. This studio version was recorded live to two-track with no overdubs and embodies the post-punk ferocity that defines the For Against live experience. Also included is an early, 1984 recording of "Amen Yves" recorded by
Randy Watson
(
December
). Runnings' voice is more ethereal and Dingman's peels of backwards guitar are more pronounced compared to the 1986 version. Dingman's guitar melodies are encrusted in the warmest of reverb baths and the song ends with a haunting cacophony of flute melodies. Like 2004's
Echelons
and 2005's
December
,
In The Marshes
is reissued in a six-panel digipak design by two-time Grammy nominee
Bruce Licher
(
Stereolab
,
Camper Van Beethoven
).
New drummer Nick Buller joined the band in September 2007, and in November 2007 For Against played the
Tanned Tin Festival
in Castellón, Spain along with artists such as
Xiu Xiu
,
Deerhunter
,
The Sea and Cake
,
Wolf Eyes
, and
Dolorean
. In March 2008 the band toured Italy for the first time, with stops in Savona, Salerno, and Rome.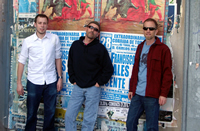 From December 2006 to June 2007 the band recorded their eighth album,
Shade Side Sunny Side
, which was released by Words On Music in April 2008. The album is a landmark record for the band, boasting the darkest and loudest For Against material to date. The album also marks original For Against guitarist
Harry Dingman's
first recordings with the band since 1988's
December
.
In October 2008 For Against embarked on a 12-date, 6-nation tour of Europe, with shows in Italy (Milan, Rome, Turin), Greece (Athens), France (Paris, Strasbourg), Germany (Berlin, Leipzig, Bochum, Hamburg), Belgium (Brussels), and The Netherlands (Amsterdam).
In November 2009 Words On Music released
Never Been
, For Against's 9th album and first with Buller.
Never Been
showcases the depth and breadth of For Against's sonic palate — alternating angular, foot-stomping post-punk ("Antidote") with lush, piano-driven ballads ("Of a Time"), and dark
Joy Division
-esque dirges ("You Fade"), all woven together by elegant instrumentals ("Black Willows," "Per Se"). "Sameness" opens the record with anthemic passages on a regretful masquerade, propelled by new drummer Nick Buller's militaristic snarework and Runnings' trademark punchy basslines. "Antidote" is an unrelenting blast of one hook after another, highlighting For Against's appetite for juxtaposing hummable melodies against a barrage of raw, wintry ambience. "Of A Time" finds Runnings behind the piano and offering the most elaborate and unforgettable vocal arrangement of his 25-year career.
Never Been
closes with "You Fade," a
Closer
-inspired composition in which Runnings flatly warns, "Nothing will be quite right again." Drenched with atmosphere, analog keys, and droning guitars, "You Fade" highlights the continued linkages between For Against and the post-punk /
Factory Records
aesthetic which has impacted their sound ever since their earliest recordings 25 years ago.
In March 2011, Words On Music released the first in a series of releases of rare For Against material begins with the three-song
Black Soap
EP. The EP includes two previous unreleased tracks from recording sessions in 1984 with the band's original lineup of Jeff Runnings (vocals, bass), Harry Dingman (guitar), and Greg Hill (drums). "Black Soap" is a torrid, sharp post-punk composition that highlights the bands early
Joy Division
/
Warsaw
influences. "Dark Good Friday" is equally frenetic, but showcases Runnings' unmistakable soaring vocal melodies and Dingman's atmospheric fretwork. Also included is a previously unreleased mix of fan favorite "Amen Yves" from the 1984 sessions.
In 2013, the New York label
Captured Tracks
, through a license from Words On Music, will issue a 1,000-copy limited edition vinyl box set of
Echelons
,
December
, and
In the Marshes
.
---
Other projects by For Against personnel
Harry Dingman and Greg Hill
In 1987 Greg Hill joined
The Return
— a band led by erstwhile For Against engineer
Randy Watson
(guitar, vocals). Hill left The Return in 1989. Harry Dingman and Hill (together with Lori Allison) formed
The Millions
who released two albums in the 1990s (1991's
M Is For Millions
on Smash Records/Polygram, 1994's
Raquel
on Germany's Dream Circle Records/Polydor; Thermometer Records in the U.S.). The Millions enjoyed particular success in Europe and opened for
Sheryl Crow
on a continental tour of Germany, Austria, Belgium and the Netherlands. Around the time The Millions broke up in 1995, Dingman formed the Lincoln rock quartet
Starla the Nudie Dancer
— which performed in Lincoln for a couple years. Dingman also played guitar and created album art design for the Lincoln band
Floating Opera
. In the late 1990s, Dingman formed a pop oriented quartet with Lori Allison (who also worked with Floating Opera) called
G.I.O.
(later changing their name to
Electrolyte
). After a few years Dingman eventually relocated to Colorado. Dingman returned to Lincoln shortly before rejoining For Against in 2004.
Steven Hinrichs
Steven Hinrichs was a cohort of Runnings in
Hymn to Joy
and a founding member of the Lincoln band
Playground
, which often played shows with For Against. There were other connections between Playground and For Against: Playground was also formed in 1984 (when Hinrichs was still in high school), and included bassist Karl Stephen — the photographer for one of For Against's initial promotional photo shoots. The other founding members of Playground were drummer Bruce Stephen and singer Marty Clough, who quit the band in 1986 to move to Minneapolis (both Karl and Bruce Stephen were founding members of
Cartoon Pupils
with Harry Dingman). In 1987 Jon Baker was recruited to replace Clough, and the band was renamed as
The Gladstones
. Bruce Stephen then moved out of state and he was temporarily replaced by Steve Schulz (who later joined For Against in 1989). Schulz didn't work out with the group, and veteran Lincoln drummer Paul Engelhard practiced with the band a few times, but decided not to join. For studio sessions of The Gladstone's debut album, Bruce Stephen returned to record drums. This album,
Jeremy
(Tall Records), contained nine songs that showcase Hinrichs' rich chord-play and
R.E.M.
-flavored pop. Despite the album's good press (it received a nice write up in
Spin
), The Gladstones folded in 1989 and Hinrichs soon joined For Against.
---
Nick Buller
- drums
Harry Dingman III
- guitar
Jeffrey Runnings
- bass, vocals, guitar
For Against
[Facebook]
Words On Music Releases
Full Discography
Autocrat (Republic Issue, 1985) 7"
Echelons (IPR, 1987) LP/Cassette
December (IPR, 1988) CD/LP/Cassette
In the Marshes (IPR, 1990) 10"
You Only Live Twice (Part Trance, 1991) 7"
Don't Do Me Any Favors (IPR, 1993) 7"
Aperture (IPR, 1993) CD
Mason's California Lunchroom (Rainbow Quartz, 1995) CD
Shelflife (World Domination/IPR, 1997) CD
Coalesced (Words On Music, 2002) CD
Echelons (Words On Music, 2004) CD
December (Words On Music, 2005) CD
In The Marshes (Words On Music, 2007) CD
Shade Side Sunny Side (Words On Music, 2008) CD
Never Been (Words On Music, 2009) CD
Black Soap (Words On Music, 2011) CD-EP
Echelons / December / In the Marshes (Captured Tracks, 2012) vinyl box set
Compilation tracks
Linoma: Compilation of Lincoln and Omaha Bands (Ism Records, 1993) CD unspeakable
Return of the Banshee (Sub Terranean, 1995) CD amen yves
Strobelights Vol. 3 (Strobelight Records, 2006) CD december
A Situation In Situ (A Situation, 2008) CD spirit lake (a situation mix)
Pagan Love Songs Antitainment Compilation Vol. 2 (Nightmarezone, 2009) Amen Yves (original version)
Auteur Labels: Independent Project Records (LTM, 2010) Shine

Autocrat
7" (1985)

Echelons
LP (1987)

December
LP/CD (1988)

In the Marshes
10" (1990)

You Only Live Twice 7" (1991)

Don't Do Me Any Favors 7" (1993)

Aperture
CD (1993)

Mason's California Lunchroom
CD (1995)

Shelflife
CD (1997)